Los Angeles' Oldest And Most Loved Food Cart Catering
We have Hot Dog, Ice Cream, BBQ, Churros, Popcorn, Snow Cone and many more carts.
For a Full List of Menu Items, CLICK HERE.
Food carts are a fun and creative way to serve delicious food and immediately add a festive vibe to any party or event. In sunny Los Angeles, California, we have the benefit of serving our customers outside for the majority of the year. Most of our carts can be placed indoors, as well.
RAIN OR SHINE, we promise to make your party one of a kind.
Fun fact: Food carts have been a part of American's dining since the 17th century. No wonder people love them so much!
At Let's Have A Cart Party, we offer a variety of different food carts, and you can combine carts and food as you see fit. It's important for us that you are satisfied with the foods you've chosen, and we work with you to put this together for your special event. Each of the food carts will offer an individual style and flavor to the event, and there will be something to enjoy for all attendees and guests.
Suggestions on Food Carts
If you have any suggestions for food carts/foods that you think are missing from our menu, please don't hesitate to reach out to us. We love to hear feedback from our customers. And who knows? Maybe your suggestion will end up on our permanent menu!
Get a Quote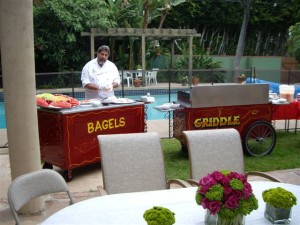 Pastels-colored outfits, dyed hard-boiled eggs, a delicious breakfast spread. Nothing quite says spring has sprung like an Easter brunch. With so many brunch options being offered at restaurants near you, it can be overwhelming trying to figure out what to do. At Let's Have A Cart Party, we're here to help you find a new way to celebrate the holiday in Los Angeles. Easter Brunch Food Carts Our antique food carts are sure to satisfy all of your brunch cravings. Try a New York-style bagel with lox and a cream cheese or create your own made-to-order omelet from our omelet station, which features more than 20 toppings for you to choose from.  In the mood for more traditional breakfast items? We also offer scrambled eggs and egg whites, breakfast meat, such as bacon and sausage, hash browns, French toast and even pancakes, topped with syrup and melted butter. If you're looking for something a little lighter, might we suggest our fresh fruit platter or salad bar. We've also got the kids covered with our cotton candy cart and our snow cone cart, both of which make for a fun and tasty carnival treat. Southern California's year-round perfect weather makes it an ideal location for an outdoor Easter brunch party. Why not let us take care of the planning, the food prep and the cleanup so that you can sit back, relax and enjoy a wonderful Easter brunch celebration with your loved ones. We promise the kids will love it! With Easter Sunday only a month away, spots are filling up fast. Contact us today to book your Easter brunch food cart party before it's too late! Call 310-578-2278...