The second Sunday of May is Mother's Day, a time to celebrate the important women in our lives. Trying to think of a unique way to celebrate the special day? Look no further than a catered food cart party.
At Let's Have A Cart Party, we can help cater your Mother's Day party for you. We can do anything from a backyard party to a beachside event. We work with you to make sure your food cart party turns out perfectly. Oh, and did we mention that we take care of the prep work and cleanup so that you don't have to?!
Our food cart offerings are perfect for a Mother's Day breakfast or brunch. Check out some of our options below.
Breakfast and Brunch Food Carts
Bagels, Lox & Cream Cheese w/ tomato, cucumber, onion & capers
Scrambled Eggs & Egg Whites
Assorted Breakfast Meat
Hash Browns
Pancakes w/ hot syrup, melted butter, chocolate chips & whipped cream
French Toast w/ hot syrup, melted butter, cinnamon & powdered sugar
Gourmet Make-Your-Own Grilled Cheese (list of fillings available upon request)
Looking to throw more of a lunch food cart party for Mother's Day? We've got you covered. Check out just a few of our many adult and kid-friendly meal options.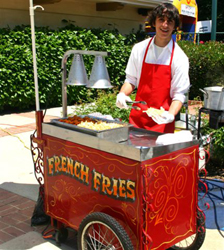 Lunch Food Carts
Kosher Beef or Chicken Hot Dog w/ ketchup, mustard, relish, onions, sauerkraut
Tater tots
French Fries (classic frozen or fresh-cut)
Salad Bar (on ice)
Carving Station (turkey, roast beef & corned beef) w/ au jus, horseradish sauce & BBQ sauce
Sliders (Beef & Turkey) on Hawaiian Roll w/ ketchup, mustard, onions, pickle, lettuce, tomato & thousand island
So rather than make a reservation at a trendy restaurant with a fixed-price menu, host a food cart party to celebrate the special women in your lives. It'll be a Mother's Day event they'll never forget.
To book our food cart catering services for Mother's Day, call us at 310-578-2278 or email info@letshaveacartparty.com so that we can work up an estimate for you. We are happy to make special accommodations to suit your needs or the needs of your party guests. We're looking forward to working with you and helping you plan your special event!
Get inspired! This fun Mother's Day brunch Pinterest board is sure to get your juice's flowing.