Blog
Follow our journey as we share timely and fun party and event ideas.
Our hope is to be able to inspire you to host the perfect party for any occasion.
This blog will inform our readers and customers about what's going on here at Let's Have a Cart Party.
What are some of the new items on our menu? What's the latest exciting food cart?
What are some current seasonal trends that influences our parties?
Check out our posts and follow our journey, one party at a time!
If you enjoy reading our content, please share it with your friends and family on social media.
About Us
Let's Have A Cart Party is a company based in Los Angeles, California, that focuses on delivering
a fun and unique experience to the event of your choice. What is it about our catering that makes
us a little different? First of all, we put our customer first. We aspire to give all of our clients a
customized experience based on their individual needs in an authentic way. We believe that we
do business with people, and it's important to hear the needs of our customers. Secondly, we love
what we do. It's something about planning and preparing a party that makes it almost just as fun
as attending it.
We serve our delicious treats of our antique-style food carts, which will automatically give the event
a fun and different flavor. A nice change to the ordinary catering experience that you may find elsewhere.
Did we mention that kids love it?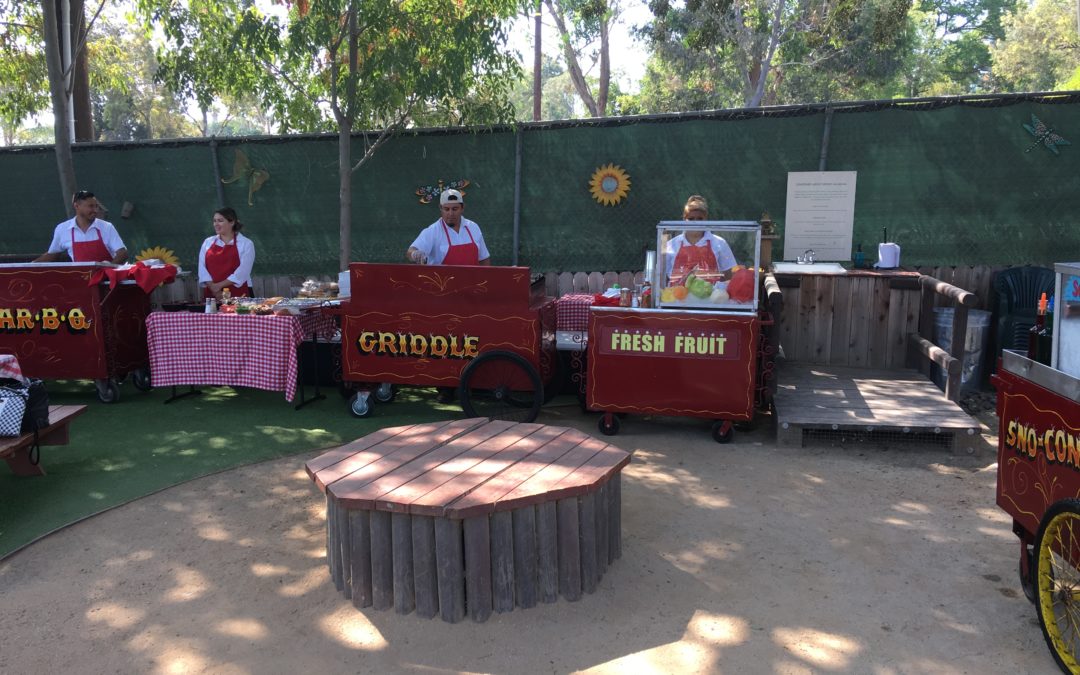 What's red, white and blue all over? Your Fourth of July weekend party! This summer, why not spice things up by coming up with an outside-the-box Fourth of July party idea for your family and friends. Whether you opt to have a backyard party or an indoor get-together, we can help you plan a food cart party that will be a hit with all of your guests. While our full catering menu is available year round, here are some key items we recommend for your Fourth of July party. Pizza cart: Pizza is a party favorite among kids and adults. Choose from toppings like cheese, pepperoni, veggie or our signature BBQ pizza. Want to get a little more creative? We also offer a make-your-own pizza. All pizza lovers rejoice! Hot dog cart: We offer 100% New York-style Kosher beef, chicken and veggie hot dogs to accommodate our customers' needs. And not to worry! We take care of all of the condiments so you don't have to. BBQ cart: Nothing quite says American food like barbecue food. Between grilled chicken, salmon skewers and grilled veggies, we've got your BBQ needs covered. Hamburger cart: We offer high quality 1/4 lb. beef, turkey and veggie burgers. This cart is sure to be a hit among all of your guests. Ice Cream cart: Catered ice cream in the middle of the summer. Need I say more? In addition to catering private parties, we also offer corporate catering services. Instead of your annual Fourth of July potluck, why not throw a picnic filled with delicious vintage food carts. We promise your employees will love you for it. Interested...