Blog
Follow our journey as we share timely and fun party and event ideas.
Our hope is to be able to inspire you to host the perfect party for any occasion.
This blog will inform our readers and customers about what's going on here at Let's Have a Cart Party.
What are some of the new items on our menu? What's the latest exciting food cart?
What are some current seasonal trends that influences our parties?
Check out our posts and follow our journey, one party at a time!
If you enjoy reading our content, please share it with your friends and family on social media.
About Us
Let's Have A Cart Party is a company based in Los Angeles, California, that focuses on delivering
a fun and unique experience to the event of your choice. What is it about our catering that makes
us a little different? First of all, we put our customer first. We aspire to give all of our clients a
customized experience based on their individual needs in an authentic way. We believe that we
do business with people, and it's important to hear the needs of our customers. Secondly, we love
what we do. It's something about planning and preparing a party that makes it almost just as fun
as attending it.
We serve our delicious treats of our antique-style food carts, which will automatically give the event
a fun and different flavor. A nice change to the ordinary catering experience that you may find elsewhere.
Did we mention that kids love it?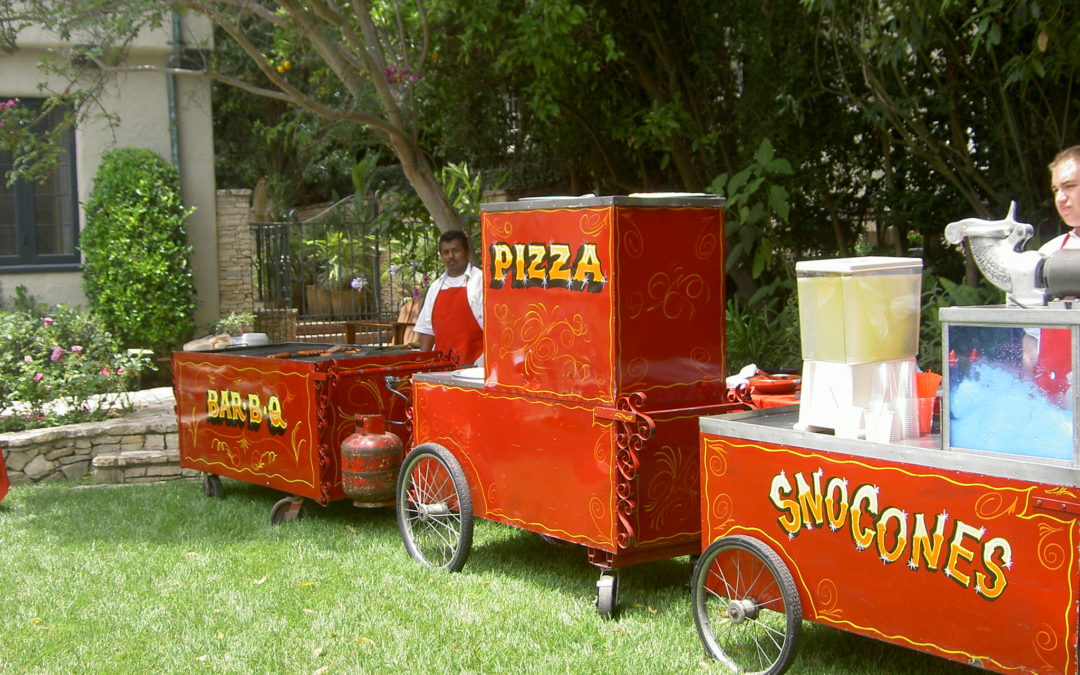 The Super Bowl brings everyone together. Whether you're rooting for one of the teams to win or eager to see the halftime show, it's likely you're going to be making plans for the big game. And that's where we come in. At Let's Have A Cart Party, we're here to help you throw a Super Bowl party like no other. We offer tons of carnival food cart options that are perfect for your event. While our regular menu is available year round, here are some of our favorite food carts for Super Bowl parties to make your decision process a little easier. Hamburger and Cheeseburger Carts: Our 1/4 lb. beef and turkey patties are the freshest in town. Hot Dog Cart: Looking for a kosher option for your guests? We only serve 100% kosher beef and kosher chicken hot dogs. We also offer veggie hot dogs. Pizza Cart: The perfect choice for kids or adults. We offer this beloved party food in cheese, pepperoni, veggie or BBQ chicken. Nachos Food Cart: Nachos make for a great Super Bowl party appetizer. Try our movie-style nachos, made with real cheddar cheese, or let your guests create their own nachos with toppings such as homemade guacamole and pico de gallo salsa. Oh, and don't forget about drinks! We also offer lemonade, soda or sparkling or premium waters on a cart. Regardless of which carnival food cart you choose, you're guests are bound to have a great time. Our food is fresh, prepared right on the spot, just the way you like it. And unlike other parties you might've thrown, this one won't require you...