Los Angeles' Oldest And Most Loved Food Cart Catering
We have Hot Dog, Ice Cream, BBQ, Churros, Popcorn, Snow Cone and many more carts.
For a Full List of Menu Items, CLICK HERE.
Food carts are a fun and creative way to serve delicious food and immediately add a festive vibe to any party
or event. In sunny Los Angeles, California, we have the benefit of serving our customers outside for the
majority of the year. Most of our carts can be placed indoors, as well.
RAIN OR SHINE, we promise to make your party one of a kind.
Fun fact: Food carts have been a part of American's dining since the 17th century.
No wonder people love them so much!
At Let's Have A Cart Party, we offer a variety of different food carts, and you can
combine carts and food as you see fit. It's important for us that you are satisfied with the foods you've
chosen, and we work with you to put this together for your special event. Each of the food carts
will offer an individual style and flavor to the event, and there will be something to enjoy for all attendees and guests.
Suggestions on Food Carts
If you have any suggestions for food carts/foods that you think are missing from our menu, please don't
hesitate to reach out to us. We love to hear feedback from our customers. And who knows?
Maybe your suggestion will end up on our permanent menu!
Get a Quote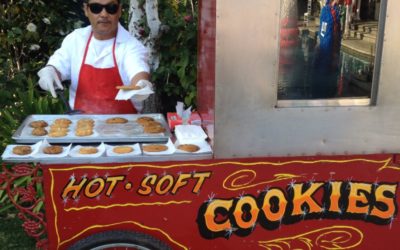 The holiday season is around the corner. Whether you're an office manager trying to plan a holiday party for your company, a family looking to host a get together for loved ones coming from near or far or you're a school administrator looking for a unique way to send students off for the holiday season, we've got you covered. At Let's Have A Cart Party, we're all about creating a one-of-a-kind party experience for any occasion, be it Christmas, Hanukkah or any other holiday throughout the year. We guarantee that in our vast assortment of vintage carnival food carts, you're bound to find something that will make everyone's mouths water. While all of our food carts are available year round, we've got a few winter favorites that we'd recommend for your holiday party. Our sugar cookies, hot roasted nuts and grilled cheese are must-have holiday items. They're a perfect blend of sweet, savory and flat-out delicious. Although Los Angeles has fairly moderate weather, the temperatures do drop during the holiday season. Stay warm with our hot mulled cider, eggnog lattes and hot cocoa topped with marshmallows and whipped cream, all made-to-order from our cappuccino cart. Celebrating Hanukkah with your family and friends? We offer a Glatt Kosher menu, featuring meat or non-dairy items. Everything is prepared under direct RCC supervision on dedicated kosher carts, such as our kosher hot dog cart. Our menu also features fresh-made latkes, or potato pancakes. Because December can be such a busy time for everyone, we recommend calling us early to book your upcoming holiday party. Let's face it. Planning a party can be hectic. That's why we want to...