Los Angeles' Oldest And Most Loved Food Cart Catering
We have Hot Dog, Ice Cream, BBQ, Churros, Popcorn, Snow Cone and many more carts.
For a Full List of Menu Items, CLICK HERE.
Food carts are a fun and creative way to serve delicious food and immediately add a festive vibe to any party
or event. In sunny Los Angeles, California, we have the benefit of serving our customers outside for the
majority of the year. Most of our carts can be placed indoors, as well.
Fun fact: Food carts have been a part of American's dining since the 17th century.
No wonder people love them so much!
At Let's Have A Cart Party, we offer a variety of different food carts, and you can
combine carts and food as you see fit. It's important for us that you are satisfied with the foods you've
chosen, and we work with you to put this together for your special event. Each of the food carts
will offer an individual style and flavor to the event, and there will be something to enjoy for all attendees and guests.
Suggestions on Food Carts
If you have any suggestions for food carts/foods that you think are missing from our menu, please don't
hesitate to reach out to us. We love to hear feedback from our customers. And who knows?
Maybe your suggestion will end up on our permanent menu!
Get a Quote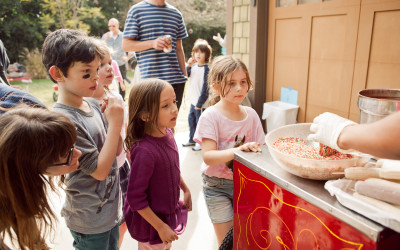 After a fun-filled summer, school is finally back in session. Whether your child has just started Kindergarten, made the leap to middle school or begun their freshman year of high school, a celebration is in order. Parents, this year, we can cater a back-to-school party for your kids like they've never seen before. Our vintage-style food carts feature a variety of kid-friendly meals. Parents and children alike will enjoy our huge assortments of tasty treats, including: Macaroni and cheese Handmade cheese pizza Corn dogs with ketchup and mustard Spaghetti topped with marinara sauce and garlic bread Movie-style nachos with cheddar cheese sauce and sliced jalapeños Chicken nuggets with BBQ sauce Mozzarella sticks with marinara sauce Kosher beef or chicken hot dogs Hamburgers and cheeseburgers Our delicious dessert food carts will certainly bring a smile to your child's face. They can enjoy such items as: Churros Candy Buffet Cart Hot, fresh cookies Cinnamon rolls covered in icing Snow cones Thinking about having a back-to-school brunch party instead? We offer breakfast and brunch food carts too that would make the perfect addition to your backyard back-to-school party. Check out some of our favorite options. Potato Pancakes or latkes with sour cream and applesauce Omelet bar with more than 20 fillings Scrambled eggs and egg whites Hash browns Pancakes with hot syrup, melted butter, chocolate chips and whipped cream French toast with hot syrup, melted butter, cinnamon and powdered sugar We can also work with your child's school administrators if they're interested in hosting a party for the kids on school grounds. We even offer school lunch programs! Looking for more food cart ideas for your Back-to-School party? Check out...