Los Angeles' Oldest And Most Loved Food Cart Catering
We have Hot Dog, Ice Cream, BBQ, Churros, Popcorn, Snow Cone and many more carts.
For a Full List of Menu Items, CLICK HERE.
Food carts are a fun and creative way to serve delicious food and immediately add a festive vibe to any party
or event. In sunny Los Angeles, California, we have the benefit of serving our customers outside for the
majority of the year. Most of our carts can be placed indoors, as well.
RAIN OR SHINE, we promise to make your party one of a kind.
Fun fact: Food carts have been a part of American's dining since the 17th century.
No wonder people love them so much!
At Let's Have A Cart Party, we offer a variety of different food carts, and you can
combine carts and food as you see fit. It's important for us that you are satisfied with the foods you've
chosen, and we work with you to put this together for your special event. Each of the food carts
will offer an individual style and flavor to the event, and there will be something to enjoy for all attendees and guests.
Suggestions on Food Carts
If you have any suggestions for food carts/foods that you think are missing from our menu, please don't
hesitate to reach out to us. We love to hear feedback from our customers. And who knows?
Maybe your suggestion will end up on our permanent menu!
Get a Quote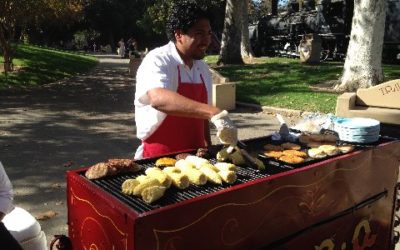 Summer is in full swing. Children are enjoying their time off from school, friends are getting together to soak up the sun and companies are taking advantage of the nice weather to put together team events. What better way to celebrate this relaxing time of the year than with a summer picnic?! At Let's Have A Cart Party, we can help you throw a backyard picnic for your family and friends or a corporate picnic for your employees that will keep people talking for weeks to come. We offer a variety of food carts perfect for your event. Although our regular food cart catering menu is available year round, we'd like to recommend some of our most popular picnic party food carts. Top Vintage Food Carts at Summer Picnics BBQ Cart: What does every backyard summer party have? Delicious barbecued food. That's why our BBQ cart is a staple at your family picnic party or corporate picnic. Featuring beef and turkey burgers, Kosher hot dogs and sausages with grilled onions, this food cart is a must. Ice Cream Cart: What better way to cool off than with America's favorite tasty treat?! Our antique-style cart features chocolate-dipped ice cream bars and frozen bananas. Try them plain or add on nuts or sprinkles as a topping. You won't regret your decision. Snow Cone Cart: Cold, refreshing, colorful, fun…the list goes on and on. There's no doubt about it. Snow cones are a must have at your picnic this summer. Tips for Corporate Picnic Catering Interested in throwing a company picnic for your employees, but not quite sure where to start? We can help. Our dedicated staff will work...