Los Angeles' Oldest And Most Loved Food Cart Catering
We have Hot Dog, Ice Cream, BBQ, Churros, Popcorn, Snow Cone and many more carts.
For a Full List of Menu Items, CLICK HERE.
Food carts are a fun and creative way to serve delicious food and immediately add a festive vibe to any party
or event. In sunny Los Angeles, California, we have the benefit of serving our customers outside for the
majority of the year. Most of our carts can be placed indoors, as well.
RAIN OR SHINE, we promise to make your party one of a kind.
Fun fact: Food carts have been a part of American's dining since the 17th century.
No wonder people love them so much!
At Let's Have A Cart Party, we offer a variety of different food carts, and you can
combine carts and food as you see fit. It's important for us that you are satisfied with the foods you've
chosen, and we work with you to put this together for your special event. Each of the food carts
will offer an individual style and flavor to the event, and there will be something to enjoy for all attendees and guests.
Suggestions on Food Carts
If you have any suggestions for food carts/foods that you think are missing from our menu, please don't
hesitate to reach out to us. We love to hear feedback from our customers. And who knows?
Maybe your suggestion will end up on our permanent menu!
Get a Quote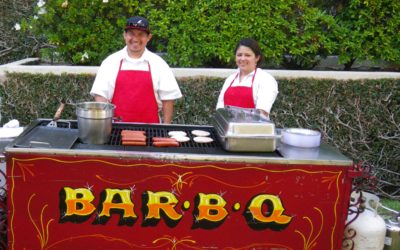 Super Bowl Sunday is practically a holiday in the United States. It's THE sporting event of the year. It's a time when family and friends come together to eat, drink, root for their favorite football team and…did we mention eat? Food is a central part of every Super Bowl party, and we want to help make your party menu one for the books. When throwing a Super Bowl party, food preparation can get a little stressful. Thankfully, we've got the perfect solution. We offer a variety of carnival food carts that will be sure to serve as the perfect party snacks for your Southern California football party. Nacho Cart: Nothing quite says football snack like cheesy nachos. We serve this classic snack movie style. Covered in cheddar cheese and sliced jalapeños, these are sure to be a hit among your guests. Looking to take things to the next level? Try our Nacho Supreme with cheddar cheese, sour cream, fresh salsa and fresh guacamole. Pizza Cart: Our pizza cart is one of a kind. All of our pizzas are handmade. Choose from our 16 inch cheese pizza, our BBQ chicken pizza or our individual pizzas. It's hard to go wrong with pizza at a Super Bowl party. Hamburger Cart: We offer 1/4-pound beef and turkey patties all made to order. Want a little something extra? Opt for freshly sliced cheddar cheese. Kosher hot dog cart: All of our hot dogs are made with Kosher beef or chicken. We also offer ketchup, mustard, relish, onions and sauerkraut so you can top it off. Bringing the kids along? Not to worry. We offer a...