Los Angeles' Oldest And Most Loved Food Cart Catering
We have Hot Dog, Ice Cream, BBQ, Churros, Popcorn, Snow Cone and many more carts.
For a Full List of Menu Items, CLICK HERE.
Food carts are a fun and creative way to serve delicious food and immediately add a festive vibe to any party
or event. In sunny Los Angeles, California, we have the benefit of serving our customers outside for the
majority of the year. Most of our carts can be placed indoors, as well.
RAIN OR SHINE, we promise to make your party one of a kind.
Fun fact: Food carts have been a part of American's dining since the 17th century.
No wonder people love them so much!
At Let's Have A Cart Party, we offer a variety of different food carts, and you can
combine carts and food as you see fit. It's important for us that you are satisfied with the foods you've
chosen, and we work with you to put this together for your special event. Each of the food carts
will offer an individual style and flavor to the event, and there will be something to enjoy for all attendees and guests.
Suggestions on Food Carts
If you have any suggestions for food carts/foods that you think are missing from our menu, please don't
hesitate to reach out to us. We love to hear feedback from our customers. And who knows?
Maybe your suggestion will end up on our permanent menu!
Get a Quote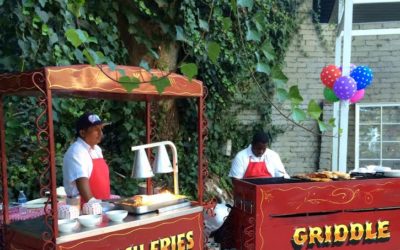 Thanksgiving weekend will be here before you know it. Soon, it will be time to gather your family and closest friends to give thanks for everything in your lives. Perhaps, your meal will consist of turkey, cranberry sauce and sweet potato casserole or maybe even baked ham, green bean casserole and pumpkin pie. Regardless of what you eat, someone has to put the entire meal together. We know how tiring preparing Thanksgiving for your family, friends and other out-of-town guests can be, so want to make sure the rest of your meal-prepping during Thanksgiving weekend is stress free! The day after Thanksgiving, the last thing your family chef wants to do is cook again. That's where we come in. We have a variety of assorted vintage food carts that we can set up outside right in your backyard, indoors if it's raining or a bit chilly, or even off site, at a place that's more convenient for you. Although our regular menu is available year round, here are a few items we recommend for a Thanksgiving weekend breakfast or lunch. Nothing quite kick starts the day after Thanksgiving like a continental breakfast, featuring French toast and pancakes, topped with syrup and melted butter; scrambled eggs and egg whites; breakfast meats, such as sausage and bacon; and even bagels. We also serve ice-blended cappuccinos, our own custom coffee blend, freshly squeezed orange juice and hot cocoa, topped with marshmallows and whipped cream. Still stuffed from your Thanksgiving meal? We also have some lighter, healthier options to choose from, such as our fresh fruit platter and our salad bar. One of our favorite salads...