Los Angeles' Oldest And Most Loved Food Cart Catering
We have Hot Dog, Ice Cream, BBQ, Churros, Popcorn, Snow Cone and many more carts.
For a Full List of Menu Items, CLICK HERE.
Food carts are a fun and creative way to serve delicious food and immediately add a festive vibe to any party
or event. In sunny Los Angeles, California, we have the benefit of serving our customers outside for the
majority of the year. Most of our carts can be placed indoors, as well.
RAIN OR SHINE, we promise to make your party one of a kind.
Fun fact: Food carts have been a part of American's dining since the 17th century.
No wonder people love them so much!
At Let's Have A Cart Party, we offer a variety of different food carts, and you can
combine carts and food as you see fit. It's important for us that you are satisfied with the foods you've
chosen, and we work with you to put this together for your special event. Each of the food carts
will offer an individual style and flavor to the event, and there will be something to enjoy for all attendees and guests.
Suggestions on Food Carts
If you have any suggestions for food carts/foods that you think are missing from our menu, please don't
hesitate to reach out to us. We love to hear feedback from our customers. And who knows?
Maybe your suggestion will end up on our permanent menu!
Get a Quote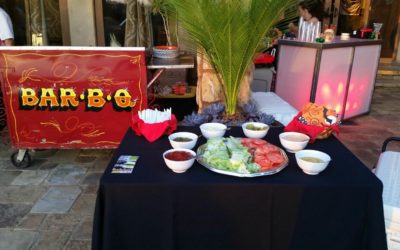 Labor Day will be here in just a few weeks. Commonly known as the unofficial end of summer, Labor Day is the perfect time to gather your family and friends for some food cart fun. Whether you're interesting in hosting a backyard BBQ, a team bonding event for your company or a pool party for the kids, we can assure you that you'll have a great time. While our regular food cart menu is available any time throughout the year, we do have a few favorite items for Labor Day Weekend parties. Take our hamburger and cheeseburger carts, for instance. These 1/4-pound beef and turkey patties are made to order. Don't eat meat? We also offer veggie burgers to make sure you're satisfied! Who doesn't love pizza?! Our antique pizza cart comes with three delicious options. Try cheese, pepperoni or BBQ chicken. Kids and parents alike will be coming back for more! Nothing says summer quite like the delicious smell of smoky BBQ. From steak, chicken and salmon skewers to hot dogs and freshly-grilled chicken breasts, our BBQ cart is one of our most popular for catered events. I scream. You scream. We all scream for ice cream! Our carnival-style ice cream cart features our famous chocolate-dipped ice cream bars and frozen bananas; a self-serve sundae bar with your choice of more than 20 toppings; chocolate, vanilla and strawberry milkshakes; and root beer floats with vanilla ice cream. If Labor Day Weekend ends up being a little too hot, don't worry! The majority of our food carts can also be taken indoors, too. A food cart party is a unique way to bring everyone together for some good old-fashioned fun. Interested in...