The weather is heating up, the days are becoming longer and the school year is coming to an end. You know what that means? Summer is almost here. At Let's Have A Cart Party, we can help you plan some fun, stress-free summer parties the whole family can enjoy.
Catered Summer Parties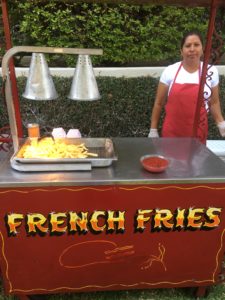 Nothing says summer more than a backyard BBQ, and our vintage food carts are the perfect addition to your Memorial Day, July 4th or Labor Day Weekend barbecue party. Our antique-style BBQ cart features the freshest of meats, including delicious chicken and steak skewers, juicy 1/4 lb. beef and turkey burgers, grilled sausages with onions and peppers and Kosher hot dogs. Want to add something salty to the mix? We've got a French Fry cart that serves us traditional fresh-cut fries, curly fries or sweet potato fries with brown sugar that are to die for. Finally, quench your thirst with our cold drinks cart where we make our freshly squeezed lemonade and frozen margaritas. Whether you're hosting a bar-b-q get-together, a pool party or are throwing a birthday party for your child, we've got your summer parties covered.
Catered Company Picnics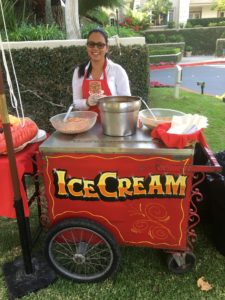 This summer treat your employees to a fun day in the sun by hosting a company picnic. Rather than leaving it all in the hands of your company's office manager or event coordinator, let our catering team at Let's Have A Cart Party do all the work. We take care of the set-up, cooking and clean-up so your entire office staff can enjoy a day of relaxation.
We offer a variety of food carts sure to satisfy everyone's taste buds. If you're looking for classic carnival treats, try our cotton candy, ice cream or pizza carts. If you're looking for something a little bit healthier, we offer a full salad bar, fish tacos and veggie skewers.
Whether you want to celebrate someone's promotion, throw your coworker a going away party or just gather everyone for some good old team bonding time, a corporate picnic catered by vintage food carts won't disappoint.
Our Guarantee
Rain or shine, you can count on our team to make your event one of a kind. In fact, most of our food carts can be placed indoors as well. So regardless of the weather, we'll be there to help you make your summer party fun for all!