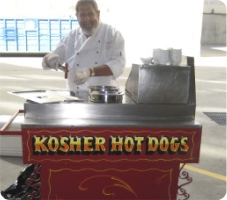 BBQ Cart Catering for Los Angeles Events
Who doesn't love a summer BBQ? The combination of friends, outdoor games and a medium-rare burger in your hand is hard to compete with. It really takes us back to our Fourth of July BBQ parties growing up.
We dare to say that the U.S.  has some of the greatest BBQ joints in the world, and we're proud to bring a little piece of our culture into your event with our BBQ catering services.
Thankfully, the warm Los Angeles weather makes it easy to throw a BBQ cart party any time of the year.
BBQ Carts
From hamburgers to salmon skewers, from hot dogs to freshly-grilled chicken breasts, our BBQ carts truly allow you to be a guest at your own party. All of our meat comes straight from the butcher to you—no freezers involved. We've been in business with our supplier for many years, so you know you're getting the best meats available, including beef and turkey burgers, sausages with grilled onions and bell peppers and, of course, kosher hot dogs. We pretty much do it all! We'll even bring the condiments so you don't have to worry about a thing. (We proudly offer kosher meat as well as vegetarian options for the grill.) Rather than spend all day sweating over a hot BBQ grill to prepare hamburgers and hotdogs for your guests, let us take care of the dirty work.
Take a look at our full catering menu here.
BBQ Cart Party Ideas
Just because you're having a BBQ, doesn't mean it needs to be traditional. Try out some fun, new themes for your next BBQ party. Pair our antique-style BBQ cart with a fold-out table covered in a red and white picnic table cloth when throwing a southern BBQ party, try adding some colorful deck fringe and tiki lamps for a Hawaiian themed BBQ party or even add some sports decorations for the perfect football BBQ. Not sure of the direction you want to take with your BBQ get-together? We can help you brainstorm and make sure your catered event turns out just the way you'd like.
Contact
If you have any questions about our BBQ carts or are BBQ cart catering services in the Los Angeles area, please contact us. We're looking forward to connecting with you and to helping you plan your event.
Phone:  (310) 578-2278
Email: info@letshaveacartparty.com
Let's Have A Cart Party's Mission
We are a Los Angeles & Orange County California food cart catering company. We have the largest selection of food carts around. Our mission is to help you plan and execute a fun-filled cart party event that has an original touch and flavor. We strive to deliver great service and cater to every season and budget.
We're permitted on all studio lots and most parks in California, and we have full liability and workers' compensation insurance.