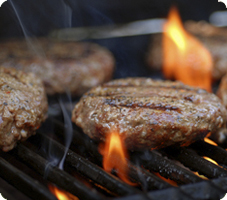 Hamburger Carts in Los Angeles
Who doesn't love a juicy burger? They are a guaranteed winner at every party and a beloved American classic among all generations. A classic at every BBQ and backyard get together, hamburgers are celebrated for their simplicity and deliciousness.
Our antique-style hamburger cart offers delicious 1/4-pound beef and turkey patties all made to order. The only thing your guests have to do is sit back, relax and decide which of our many condiments and extras they want to add! We offer ketchup, mustard, onions, pickle chips, sliced tomato, lettuce, homemade Thousand Island dressing, and, of course, savory cheddar cheese for all those cheeseburger lovers! We also offer veggie burgers for the vegetarians in the house. Who says hamburgers can't be gourmet? We can bring our hamburger cart to your event.
And hey, here's a great read for all of you burger lovers out there.
Take a look at our full menu here.
Contact
If you have any questions about our hamburger cart or are hamburger catering services, please contact us. We're looking forward to connecting with you and to helping you plan your event.
Phone:  (310) 578-2278
Email: info@letshaveacartparty.com
Let's Have A Cart Party's Mission
We are a Los Angeles & Orange County California food cart catering company. We have the largest selection of food carts around and our mission is to help you plan and execute a fun-filled cart party event that has an original touch and flavor.  We strive to deliver great service and cater to every season and budget.
We're permitted on all studio lots and most parks in California, and we have full liability and workman's compensation insurance.