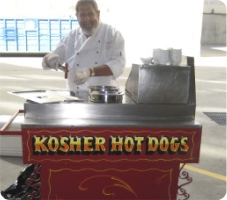 Hot Dog Cart
Hot dogs are a classic all year round – and are loved for their deliciousness and simplicity, traveling all the way from Germany to the USA. They have been a staple in the American kitchen for a long time and can be combined with a variety of toppings to personalize for taste. Check out this list for some very creative hot dog creations.
At Let's Have A Cart Party, we serve New York-style hot dogs out of our antique hot dog cart, which adds a touch of nostalgia to any event.We only serve 100% kosher beef and kosher chicken hot dogs, but vegan/veggie hot dogs are also available upon request. We bring all the fixings your guests need for the perfect dog  – ketchup, mustard, relish, onions & sauerkraut. We even offer more regional favorites like red onion sauce, chili, slaw, tomatoes, pickles and celery salt.
Out hot dog cart is the ideal food cart for baseball-themed birthday party, a New York-themed party or even a company picnic. No traditional American party is complete without them. For more information about out hot dog cart catering services, feel free to give us a buzz. And as always, you can take a look at our full catering menu here.
Contact
If you're interested in finding out more about our hot dog catering services, please contact us. We're looking forward to connecting with you and to helping you plan your event in the Los Angeles area.
Phone:  (310) 578-2278
Email: info@letshaveacartparty.com
Let's Have A Cart Party's Mission
We are a Los Angeles & Orange County California food cart catering company. We have the largest selection of food carts around and our mission is to help you plan and execute a fun-filled cart party event that has an original touch and flavor.  We strive to deliver great service and cater to every season and budget.
We're permitted on all studio lots and most parks in California, and we have full liability and workman's compensation insurance.