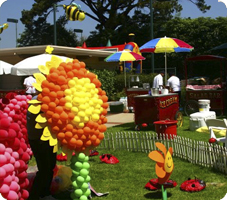 Picnics and Other Corporate Catering Ideas
Let's face it – we all need to take a break from work at times. As Americans, we work more than most people and could, therefore, use some time to just kick back, relax and enjoy the great outdoors. And we can't think of a better way to make that happen than with a corporate picnic catered by our antique-style food carts. Picnics are the perfect event to help celebrate staff appreciation day, employee anniversaries or promotions and even to help celebrate a profitable fiscal year. It's a great opportunity to bond with your colleges and nurture that great company culture.
At Let's Have A Cart Party, we offer corporate catering in Los Angeles. We're happy to brainstorm a fun and creative concept that could work for your business event and determine what food would go well with the theme. We offer everything from delicious finger food such as hamburgers, pizza, hot dogs to BBQ and tacos to more gourmet items, like chicken and salmon skewers. You even have the option of hosting a company brunch with traditional American pancakes, a fresh omelet and a freshly brewed cup of coffee.
Take a look at our full menu here.
Contact
If you have any questions about our food carts or are corporate catering services in the Los Angeles area, please contact us. We're looking forward to connecting with you and to helping you plan your event.
Phone:  (310) 578-2278
Email: info@letshaveacartparty.com
Let's Have A Cart Party's Mission
We are a Los Angeles & Orange County California food cart catering company. We have the largest selection of food carts around and our mission is to help you plan and execute a fun-filled cart party event that has an original touch and flavor.  We strive to deliver great service and cater to every season and budget.
We're permitted on all studio lots and most parks in California, and we have full liability and workman's compensation insurance.