The holidays are coming; A time for family and friends to celebrate, and for companies to show their appreciation for another great year. Whether your looking for a formal event or a simple party with coffee and cookies, we can make your event fun and stress free.
Whether you're in need of holiday party catering for Hanukkah, Christmas, Thanksgiving, Kwanza or New Year's, we've got you covered! With our impressive assortment of vintage style food carts, Let's Have A Cart Party is your solution to holiday party catering.
Hanukkah (Chanukah) Party Catering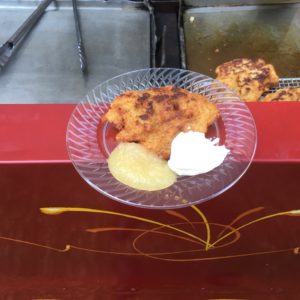 The festival of lights is a time for family and food. Rather than spending your time working, let us handle the bulk of the work for you, so you can be a guest at your own party. We will set up our food carts wherever you'd like (even indoors*), and serve the food to your guests, so you don't have to worry about lifting a finger!
In addition to our traditional carnival food carts, such as our kosher hot dog, hamburger and pizza carts, we also offer special holiday menu items. For this year's Hanukkah festivities, try our fresh-made latkes, or potato pancakes, which can be topped with apple sauce and sour cream. Craving something sweeter? Our hot fresh cookie and funnel cake carts will do the trick.
Christmas Party Catering
Much like Hanukkah, Christmas is jam packed with family get-togethers and food. Rather than spending the majority of the time cooking, consider having your meal catered to make your life easier. Our sugar cookies, mulled cider, hot roasted chestnuts and egg nog lattes are perfect for this time of the year. Whether you're throwing an Ugly Sweater Party, organizing your company Christmas party or celebrating Christmas brunch with close family and friends, we will help you throw an unforgettable event.
New Year's Party Catering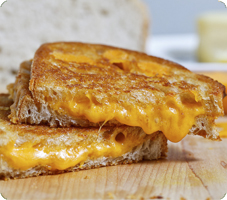 From now until the end of the year, the parties just don't stop! Do you know how you can make sure 2016 ends with a bang? We do. Our antique food carts are the perfect choice for a New Year's party. We've got a grilled cheese cart that's to die for, an assortment of breakfast items that make for a delicious New Year's Day brunch and one-of-a-kind desserts that will leave your guests talking for months to come!
As always, our regular menu is available year round for your convenience.
Interested in our holiday party catering services? Don't wait any longer to book! Call 310-578-2278 or email info@letshaveacartparty.com so we can work up an estimate for you. We're looking forward to working with you and to helping you plan your event!
*Not available with all carts