Full of fun, laughter and a whole lot of food, the holiday season is one of our favorite times to help you make your event extra special. From work events to large family get-togethers, we've got your fall and winter party catering needs covered!
Corporate Holiday Parties
With October already here, office managers and event coordinators everywhere have officially entered party planning mode. One of the most important things for them to figure out is who is going to cater your corporate holiday party. That's where we come in. We offer a variety of holiday food carts that are sure to make your office party one of a kind!
Do you consider yourself a chocolate lover? Our chocolate fountain cart is just what you need in your life! Equipped with three types of chocolate fountains, including Belgian milk chocolate, dark chocolate and caramel, there's sure to be something for everyone.
Looking for something a little bit more warm and cozy? Step on over to our grilled cheese cart. Opt for the more traditional route and go with classic cheddar cheese or choose from some of our gourmet selections, such as brie, pear and honey or Swiss cheese with caramelized onions and mushrooms. On the side, pair your warm sandwich with our homemade tomato soup.
Need a little something to keep you going for the night ahead? Our hot roasted nut cart will do the trick! Not only are they packed with nutrients, but they're oh, so tasty!
In addition to these three food carts, we also offer many more! We'd be happy to help you pick the ones that will work best for your office holiday party.
Thanksgiving and Winter Party Catering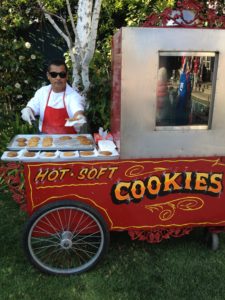 The fall and winter season are filled with more events than just your annual corporate holiday party.
After slaving over a hot stove on Thanksgiving day to prepare a feast for your family and friends, the last thing you want to worry about it doing it all over again the next day. Not to worry! Let's Have A Cart Party is here to ease your stresses. We'll come over the day after Thanksgiving with food carts in hand!
In the mood for breakfast or brunch? Then we'll bring our omelet bar, fresh fruit, bagels and coffee carts. Craving lunch items? Then we'll bring our pizza cart, NY-style hot dog cart and hamburger cart for you and your guests to enjoy.
Because the weather in Southern California gets a little bit chillier during this time of the year, we can also bring our antique-style food carts to any indoor winter party you host. You just tell us where you want to set up, and we'll do all the set-up work!
For winter parties, one of our favorite food carts is our hot and fresh cookie cart, featuring chocolate chip, oatmeal raisin and white chocolate macadamia nut cookies. Not only will it warm you up, but it will satisfy your sweet tooth.
But as always, our full menu is available year round. Feel free to choose from a wide assortment of menu items that are sure to make your party a night to remember!
Interested in hosting a fall or winter party in the Southern California area? We can help cater it! Give us a call at 310-578-2278 or email info@letshaveacartparty.com so that we can work up an estimate for you. We'd be happy to help you select the perfect assortment of food carts for your upcoming holiday party.