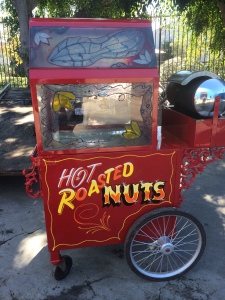 Roasted Nut Cart in Los Angeles
Nuts are not only a delicious snack for any occasion – they are healthy and packed with good fats. They have been a complimentary bar snack, a holiday favorite and a "to-go" snack for a long time – and  can now end up in your back yard at your party and event. We promise your guests will enjoy the roasted nut of your choice, fresh off our hot nut cart.
Our favorites are roasted peanuts, cashews or chestnuts. They will carry you over between meals and is a healthier alternative to dessert. And hey – if you want to learn how to roast your own nuts at home after the event, check out this how-to guide.
Take a look at our full menu here.
Contact
We're looking forward to connect with you and start planning your event.
Phone:  (310) 578-2278
Email: info@letshaveacartparty.com
Let's Have A Cart Party's Mission
We are a Los Angeles & Orange County California food cart catering company. We have the largest selection of food carts around and our mission is to help you plan and execute a fun-filled cart party event that has an original touch and flavor.  We strive to deliver great service and cater to every season and budget.
We're permitted on all studio lots and most parks in California, and we have full liability and workman's compensation insurance.