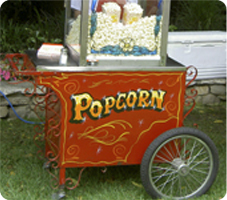 Los Angeles Popcorn Cart Catering
Our popcorn cart has a tendency to become very popular at events. Popcorn is a beloved snack that will satisfy any craving you may have. Our bright red, antique-style popcorn cart is a great choice for any type of birthday party, carnival or grand opening.
Popcorn is also one of the healthier alternatives when snacking – and is often associated with going to the movies. So if you're planning to host a film screening in your backyard, this is a perfect choice to add to that experience. We also offer Kettle Corn for that salty & sweet combination.
Add this delicious popcorn cart to your party or event – you won't regret it.
Take a look at our full menu here.
Contact
If you're interested in finding out more about our hot dog carts or our hot dog catering services, please contact us. We're looking forward to connecting with you and to helping you plan your event in the Los Angeles area.
Phone:  (310) 578-2278
Email: info@letshaveacartparty.com
Let's Have A Cart Party's Mission
We are a Los Angeles & Orange County California food cart catering company. We have the largest selection of food carts around and our mission is to help you plan and execute a fun-filled cart party event that has an original touch and flavor.  We strive to deliver great service and cater to every season and budget.
We're permitted on all studio lots and most parks in California, and we have full liability and workman's compensation insurance.