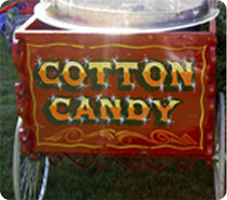 Los Angeles, CA Cotton Candy Catering
Whether you call it fairy floss, candy floss or cotton candy – it is a part of any carnival, fair or adventure park experience and memory. This spun sugar is not only gorgeous to look at, but a real party-boost for the kids. Is goes well as a giant, fluffy desert after dinner – or as a part of an "all-sweets" fun-filled afternoon. It's a fun experience to just watch cotton candy in the making.
Or make your cotton candy "glow" with our special light-up LED sticks instead of the usual paper sticks!
If you're looking to plan an afternoon to celebrate a birthday or just have playdate filled with fun, check out these fun games to play outdoors (found at Listotic.com.)
Take a look at our full menu here.
Contact
If you have any questions about our cotton candy carts or are cotton candy catering services in the Los Angeles area, please contact us. We're looking forward to connecting with you and to helping you plan your event.
Phone:  (310) 578-2278
Email: info@letshaveacartparty.com
Let's Have A Cart Party's Mission
We are a Los Angeles & Orange County California food cart catering company. We have the largest selection of food carts around and our mission is to help you plan and execute a fun-filled cart party event that has an original touch and flavor.  We strive to deliver great service and cater to every season and budget.
We're permitted on all studio lots and most parks in California, and we have full liability and workman's compensation insurance.