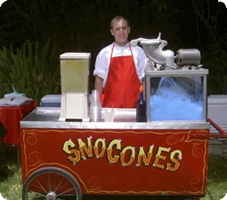 Snow Cone Cart, Los Angeles
Shaved ice goodness in form of snow cones are coming right to your party! We will serve up the coldest and most refreshing snow cone you've ever tasted – perfect for pool parties and afternoon BBQs. Kids love these frozen treats  and come back for more after having a taco or burger for dinner.
We highly recommend this food cart for the warmer summer months – as it's almost just as refreshing as an iced drink and it is always a huge favorite at any party.
Take a look at our full menu here.
Contact
If you have any questions about our snow cone carts or are snow cone catering services in the Los Angeles area, please contact us. We're looking forward to connecting with you and to helping you plan your event.
Phone:  (310) 578-2278
Email: info@letshaveacartparty.com
Let's Have A Cart Party's Mission
We are a Los Angeles & Orange County California food cart catering company. We have the largest selection of food carts around and our mission is to help you plan and execute a fun-filled cart party event that has an original touch and flavor.  We strive to deliver great service and cater to every season and budget.
We're permitted on all studio lots and most parks in California, and we have full liability and workman's compensation insurance.