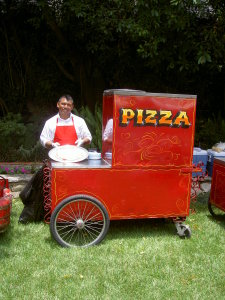 Pizza Food Cart, Los Angeles
Let's talk about pizza! This amazing and delicious creation that is very hard not to love and eat frequently. Although it takes a little longer to prepare and cook the pizza at an actual event, we think it's so worth it. It's something about watching your food get prepared and the love that gets put into it before it's served to guests that makes this one taste extra delicious.
We give you an array of choices to put on your pizza, but our classics are: plain cheese, pepperoni, veggie and our signature BBQ chicken. Each pizza is 14 inches in diameter and cut into 8 slices.
The "make-your-own" pizza is an obvious choice for all hard-core pizza lovers that know what they want – and it's fun too.
So who wouldn't like one of America's most beloved party-foods at their event? Let's have a pizza party.
Take a look at our full menu here.
Contact
We're looking forward to connecting with you and starting to plan your event in the Los Angeles area.
Phone:  (310) 578-2278
Email: info@letshaveacartparty.com
Let's Have A Cart Party's Mission
We are a Los Angeles & Orange County California food cart catering company. We have the largest selection of food carts around and our mission is to help you plan and execute a fun-filled cart party event that has an original touch and flavor.  We strive to deliver great service and cater to every season and budget.
We're permitted on all studio lots and most parks in California, and we have full liability and workman's compensation insurance.
Follow CartParty's board Pizza on Pinterest.