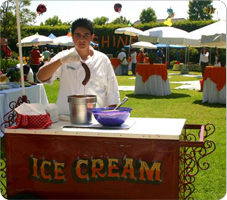 Ice Cream Cart in Los Angeles
Hey, ice cream lovers!  Have you ever had an event with an entire ice cream cart? If not, it's about time. According to IceCream.com, American's enjoy an average of 48 ice cream pints per person in one year – so we don't have to tell you that this dessert cart will be a favorite dessert choice at your event.
Our vintage ice cream cart features our signature treats, including chocolate-dipped ice cream bars and frozen bananas, which are served with your choice of nuts or sprinkles. Kids and adults alike delight in having a made-to-order dessert hand-dipped just for them. It's always a crowd pleaser! But our cool treats don't end there: Be sure to ask about hand-scooped ice-cream cones, iced blended cappuccinos and milkshakes or malts, and our build-your-own sundae bar!
For an all-time high – combine the ice cream with a nice cup of coffee, then go home and try one of these ice-cream recipes.
Take a look at our full menu here.
Contact
We're looking forward to connecting with you and to helping you plan your event.
Phone:  (310) 578-2278
Email: info@letshaveacartparty.com
Let's Have A Cart Party's Mission
We are a Los Angeles & Orange County California food cart catering company. We have the largest selection of food carts around and our mission is to help you plan and execute a fun-filled cart party event that has an original touch and flavor.  We strive to deliver great service and cater to every season and budget.
We're permitted on all studio lots and most parks in California, and we have full liability and workman's compensation insurance.