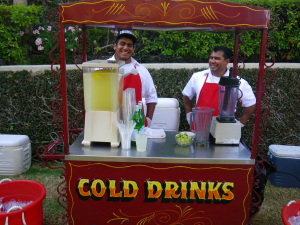 Drink Cart in Los Angeles
Let's be honest – staying hydrated in the Los Angeles' summer is important and drinks are just as important as food at an event. Choose from our long list of freshly made drinks, served off our festive cart. Includes options such as fresh lemonade, fruit smoothies, sodas, water, and margaritas (with your tequila.)
The drink choices are always seasonal, and we ensure you that there will be something to drink to match every occasion, for children as well as grown-ups.
Combine the drink cart with any food cart of your choice. Why not some BBQ, Pizza, Taco, or Hot Dogs?
Take a look at our full menu here.
Contact
We're looking forward to connect with you and start planning your event.
Phone:  (310) 578-2278
Email: info@letshaveacartparty.com
Let's Have A Cart Party's Mission
We are a Los Angeles & Orange County California food cart catering company. We have the largest selection of food carts around and our mission is to help you plan and execute a fun-filled cart party event that has an original touch and flavor.  We strive to deliver great service and cater to every season and budget.
We're permitted on all studio lots and most parks in California, and we have full liability and workman's compensation insurance.