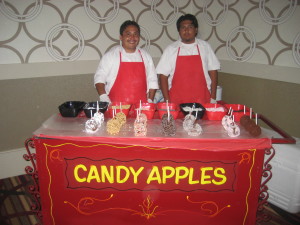 They say that an apple a day keeps the doctor away, and that couldn't be more true. Apples are a healthy, immune-boosting, snack filled with fiber. At first glance, this nutritious and delicious fruit might not seem that festive, but However, for parties and events – an apple may not seem that festive.
The solution? Candy or caramel apples, served right at your event in Los Angeles. We dip the apples in your choice of candy or caramel flavor, then we go on to roll them in your choice of topping.
Candy apples are a classic, hard –shell coating and our mouth-watering caramel is soft and delicious.  Sliced fresh and ready-to-eat and will make a healthy snack into a festive alternative – perfect for Halloween parties or any other fall or winter event.
If you're interested in see how you can make your own candied apple when the party's over – why not check out this Martha Stewart video on how to make your own?
Take a look at our full catering menu here.
Contact
If you're interested in finding out more about our candy apple carts, please contact us. We're looking forward to connecting with you and to helping you plan your event.
Phone:  (310) 578-2278
Email: info@letshaveacartparty.com
Let's Have A Cart Party's Mission
We are a Los Angeles & Orange County California food cart catering company. We have the largest selection of food carts around and our mission is to help you plan and execute a fun-filled cart party event that has an original touch and flavor.  We strive to deliver great service and cater to every season and budget.
We're permitted on all studio lots and most parks in California, and we have full liability and workman's compensation insurance.