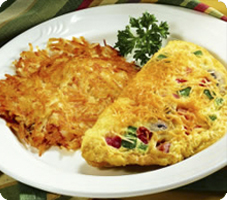 Brunch Food Cart, Los Angeles
Want to brunch in Los Angeles? Honestly, who doesn't love brunch? Now we take it one step further and bring it closer to home, and you don't have to lift a finger. Brunch is a magical meal that's not too early, nor too late, and they truly lighten up our weekends. However, weekday brunches have become more of a phenomenon and can be a nice change to your workday.
To serve brunch from a food cart in your backyard is a nice change and will become a hit with your guests.
Brunch Offerings:
We're proud to offer top-of-the-line brunch catering that you and your guests will love. Savory or sweet, hot or continental, we have a full range of breakfast options to make everyone happy. Try our build-your-own omelet bar for an instant impression. Fresh hash browns and assorted breakfast meats complete your menu.  Or fresh pancakes or French toast with hot syrup and melted butter.  And don't forget the fresh-squeezed orange juice and fresh cappuccino!
Take a look at our full menu here.
Contact
We're looking forward to connect with you and start planning your event.
Phone:  (310) 578-2278
Email: info@letshaveacartparty.com
Let's Have A Cart Party's Mission
We are a Los Angeles & Orange County California food cart catering company. We have the largest selection of food carts around and our mission is to help you plan and execute a fun-filled cart party event that has an original touch and flavor.  We strive to deliver great service and cater to every season and budget.
We're permitted on all studio lots and most parks in California, and we have full liability and workman's compensation insurance.