Labor Day is a time for people to sit back, relax and celebrate all of their hard work. Commonly known as the unofficial end of summer, it's a day when parents and children get to enjoy each other's company without the stress of work or school getting in the way of their fun. Many people like celebrating the day by having friends and family over for a BBQ, a pool party or even for a backyard picnic. But this year, why not try something more unique that will let you be able to truly enjoy the day. At Let's Have A Cart Party, we do the set-up, the serving and the clean-up so that you can focus on spending time with your loved ones. Our gourmet antique-style food carts are perfect for your Labor Day catering needs.
Labor Day Catering Fun
Looking for a BBQ party with all the fixings? From hamburgers to hot dogs from steak skewers to freshly-grilled chicken breasts, we've got you covered. We use the highest quality meats and offer a variety of yummy condiments for you to spice up your meal. Our BBQ cart is sure to be a hit at your Labor Day party.
Craving an all-American meal on your day off? Our Kosher hot dog cart, hamburger cart and French fries cart will do just the trick. We've even got an assortment of condiments, including ketchup, mustard, relish, onions and sauerkraut and more regional favorites, such as red onion sauce, chili, slaw, tomatoes, pickles and celery salt.
Need to cool down from the hot summer day? We offer a snow cone cart and an ice cream cart to keep you feeling refreshed. Kids love these tasty icy treats and are sure to keep coming back for more.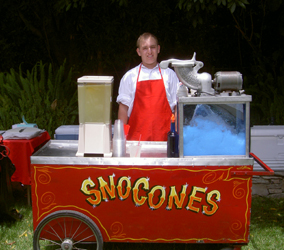 Oh, and not to worry! Our full cart menu is also available throughout the year for all of your catered events.
So this September, look no further than Let's Have A Cart Party for your Labor Day catering needs. We will make it our top priority to ensure that your long weekend is filled with food, fun and absolutely no labor!
Do you live in Los Angeles County or Orange County and want to book us for our Labor Day catering services? Give us a call at 310-578-2278 or email info@letshaveacartparty.com so that we can work up an estimate for you. We'd be happy to help you select the perfect assortment of food carts to meet your needs and the needs of your party guests.
We look forward to helping you plan your big end-of-summer event and hope to hear from you soon!