Blog
Follow our journey as we share timely and fun party and event ideas.
Our hope is to be able to inspire you to host the perfect party for any occasion.
This blog will inform our readers and customers about what's going on here at Let's Have a Cart Party.
What are some of the new items on our menu? What's the latest exciting food cart?
What are some current seasonal trends that influences our parties?
Check out our posts and follow our journey, one party at a time!
If you enjoy reading our content, please share it with your friends and family on social media.
About Us
Let's Have A Cart Party is a company based in Los Angeles, California, that focuses on delivering
a fun and unique experience to the event of your choice. What is it about our catering that makes
us a little different? First of all, we put our customer first. We aspire to give all of our clients a
customized experience based on their individual needs in an authentic way. We believe that we
do business with people, and it's important to hear the needs of our customers. Secondly, we love
what we do. It's something about planning and preparing a party that makes it almost just as fun
as attending it.
We serve our delicious treats of our antique-style food carts, which will automatically give the event
a fun and different flavor. A nice change to the ordinary catering experience that you may find elsewhere.
Did we mention that kids love it?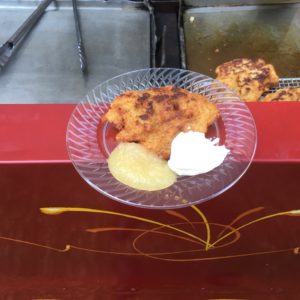 The holidays are coming; A time for family and friends to celebrate, and for companies to show their appreciation for another great year. Whether your looking for a formal event or a simple party with coffee and cookies, we can make your event fun and stress free. Whether you're in need of holiday party catering for Hanukkah, Christmas, Thanksgiving, Kwanza or New Year's, we've got you covered! With our impressive assortment of vintage style food carts, Let's Have A Cart Party is your solution to holiday party catering. Hanukkah (Chanukah) Party Catering The festival of lights is a time for family and food. Rather than spending your time working, let us handle the bulk of the work for you, so you can be a guest at your own party. We will set up our food carts wherever you'd like (even indoors*), and serve the food to your guests, so you don't have to worry about lifting a finger! In addition to our traditional carnival food carts, such as our kosher hot dog, hamburger and pizza carts, we also offer special holiday menu items. For this year's Hanukkah festivities, try our fresh-made latkes, or potato pancakes, which can be topped with apple sauce and sour cream. Craving something sweeter? Our hot fresh cookie and funnel cake carts will do the trick. Christmas Party Catering Much like Hanukkah, Christmas is jam packed with family get-togethers and food. Rather than spending the majority of the time cooking, consider having your meal catered to make your life easier. Our sugar cookies, mulled cider, hot roasted chestnuts and egg nog lattes are perfect for this time of the year. Whether you're throwing an Ugly...